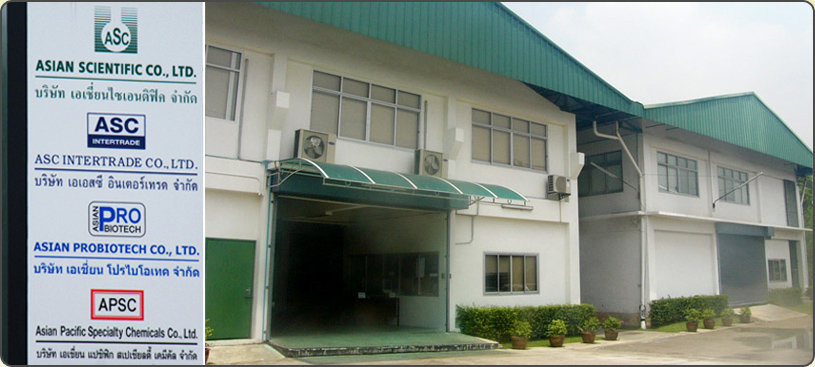 Asian Scientific Co.,Ltd. (ASC),
ASC, founded in 1994, is a Thailand-based leading chemical distributor and retailer for industries and laboratories. We have focused on supplying a broad range of basic industrial and laboratory chemicals as well as laboratory instruments/equipment. Our ultimate goal is to provide the best support for innovative science.
Up to these days, ASC has more than 5,000 products supplied to main manufacturers in South-East Asia. Some products are manufactured by our subsidiaries and affiliated companies.
ASC has restructured itself into several different business groups and called ourselves as "ASC Group". We have formed three subsidiaries to support different business groups defined by the chemicals offered and services provided.
Asian Pacific Specialty Chemicals Co.,Ltd. (APSC), established in 2004, is a former joint venture company between "ASC" and "Pacific Rare Specialty Metals & Chemicals, Inc. (PRM)", a Philippines-based producer and supplier of Tellurium and Selenium products. Currently, APSC is a wholly-owned subsidiary of ASC.
In 2005, ASC intended to expand our business internationally by establishing ASC Intertrade Co.,Ltd. (ASCI) to be responsible for all import and export of industrial chemicals.
We, ASC, also keep our eyes on the modernization of market need by foreseeing the importance of food chain business. Therefore, in 2007, we founded Asian Probiotech Co.,Ltd. (APBT) to support the growth of agricultural section in relation to biotechnology as a key driving force to achieve the company's goal.

Head office: 199/1 Moo 3, Soi Vongpad, Theparak Road K.M. 10, Bangplee Yai, Bangplee, Samutprakarn 10540.
Phone: (+66)2-757-4515 (8 Lines), Fax: (+66)2-385-5210, E-mail:
Copyright © 2012 Asian Scientic Co., Ltd. All rights reserved. | design by icidea.com